| | |
| --- | --- |
| | EOD INFORMATION |
The History of EOD
The first record of an organized ordnance disposal unit was a unit formed by the Royal Air Force in the United Kingdom (U.K.) in response to bombing raids in the late 1930's. The United States ordnance disposal program dates back to April of 1941. At that time the United States was not part of the war but anticipating some involvement the U.S. War Department recommended that the United States start a bomb disposal program.
The Ordnance Training Center, Aberdeen Proving Grounds (APG), Maryland Commanding General, directed Col. Thomas J. Kane to develop a bomb disposal program. As a result, in January 1942, the Bomb Disposal School was activated at APG. British Bomb Disposal instructors trained the first classes to graduate from the school while the Col. and his staff departed for England to attend the Royal Engineers Bomb Disposal School and observe U.K. disposal operations.
The first Bomb Disposal units were organized in 1942 as Bomb Disposal Companies, much the same as British units. For purposes of mobility and to reduce response time the units were reorganized in 1943 and 1944 as Bomb Disposal Squads. In January of 1945 the Bomb Disposal Squads were reorganized to Ordnance Service Detachments (Bomb Disposal), in April of 1945 to Ordnance Service Squads and in December of 1949 to Explosive Ordnance Disposal (EOD) Squads. The first Air Force EOD unit was the 1st Explosive Ordnance Disposal Squadron located at Wright-Patterson AFB, Ohio, with an authorized strength of 11 officers and 65 enlisted.
Today EOD in the U.S. is a joint service program with each branch of the service having specific responsibilities assigned to it by the DOD. Some of these responsibilities are unique to one service and some overlap between two or more services. In 1971, the Navy was designated as the single manager for all common EOD training and technology. Training was conducted for years the inter-service staff at the EOD Schools located at Eglin Air Force Base (AFB), Florida and the Naval Surface Warfare Center Division, Indian Head, MD. but just recently the EOD school has been consolidated to the Eglin AFB facility.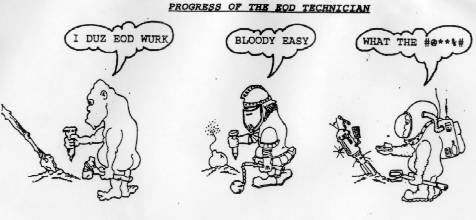 The EOD Badge: Worn proudly by all services.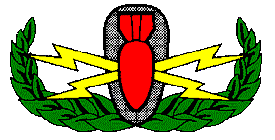 The current EOD Badge came into being in 1969. This badge is awarded to and worn by all four services in DOD and is utilized by some civilian police department bomb squads.

Each component of the EOD Badge has a special meaning. The wreath is symbolic of the devotion to duty of those who wear the badge and a memorial of those EOD officers and enlisted personnel who have given their lives while performing EOD duties. The bomb is copied from the design of the first World War II bomb disposal badge and represents the historic and major objective of EOD, making unexploded ordnance safe. The three visible fins of the bomb represent the areas of nuclear, conventional and chemical/biological ordnance EOD personnel face. The lightning bolts represent the potential destructive power of the bomb and the courage and professionalism of EOD personnel. The shield represents the EOD mission - "preventing detonation and protecting lives and property."
EOD Motto: "Initial Success or Total Failure"


EOD Badge Eligibility: The specific criteria for award of the EOD badges is covered in Army Regulation AR 600-8-22. There are three levels of EOD badges including the basic, senior and master level EOD badges. The requirements for each are noted below along with an image of each badge.
| | |
| --- | --- |
| Basic EOD Badge: The EOD soldier must have MOS 55D (enlisted) or 91E (officer), complete prescribed instruction and perform satisfactorily for 18 months for the award to become permanent. | |
| | |
| --- | --- |
| Senior EOD Badge: Must have been awarded the basic EOD badge and have served 36 cumulative months in an EOD position following award of the basic badge. | |
| | |
| --- | --- |
| Master EOD Badge: Must have been awarded the senior EOD badge and served 60 months in a TOE/TDA officer of NCO EOD position, since award of the senior badge. | |
EOD School: What it takes to become an EOD Technician
The entire EOD program is a joint service activity with all four services (Army, Navy, Air Force, and Marines) attending the same basic course of instruction. Officers and enlisted attend EOD School together and are held to the same performance standards.
Basic Military EOD training is conducted in two phases:
Phase I
Located at: Eglin Air Force Base, Fort Walton Beach, Florida

Length: 10 weeks, 2 days

Topics Covered: Applied physical principals, chemical weapons/agent procedures, explosive ordnance identification and hazards, EOD tools and equipment, basic demolition tools and equipment, EOD reconnaissance, locating surface and buried explosive ordnance.
Phase II
Located: Eglin Air Force Base, Fort Walton Beach, Florida (moved from NAVSCOLEOD, Indian Head, Maryland)

Length: 17 week, 4 days

Phase II training is broken down into four divisions: Ground Ordnance, Air Ordnance, Improvised Explosive Devices, and Nuclear Weapons.

Topics Covered: Conventional US and foreign ordnance identification, render safe and disposal procedures for ground ordnance (grenades, landmines, projectiles, rockets), air ordnance (bombs, dispensers and payloads, guided missiles, aircraft explosive devices), improvised explosive devices, and US nuclear weapons, associated tools and protective equipment.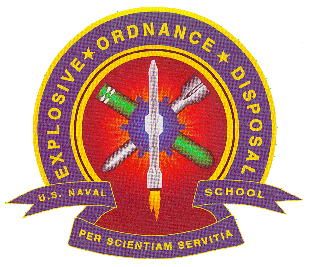 Additional Service Specific Training:
Navy EOD Specialists:
Attend an additional block of instruction on underwater ordnance that the other services do not receive.
Army EOD Specialists:
Receive an additional 4 weeks, 1 day training in US Army unique EOD tools and equipment, familiarization with EOD assignments, missions and doctrine, DOD response to VIP missions, search and recovery of buried unexploded ordnance, new EOD developments and a Hazardous Devises Division tour.